BRAGS!
2006 Brags!Updated 2/16/07


Barbarian's Diamond Ria,CGC,MX, MXJ and NF (Novice FAST), and two legs towards her CD
Ria also won the eastern Regionals of the Purina Incredible Dog Challenge and placed 3rd at the nationals!Ria was ranked the number 2 Am Staff in the nation in AKC agility for 2005 and 2006


---


Tidus(Can Ch Barbarian's Jumpstart Pride,TT,OFAg, el,CERF,heart clear
Tidus was Number one in Canada in 2005 winning Group 2nd at Terrier specialty under Terrier Breeder Judge from Finland and   with a Group 1st under Terrier Judge Don Emslie of Annfield Miniature Schnauzers of National fame. With numerous other breed and group wins This year so far Tidus is #1 in Canada for 2006 with multiple group and breed wins noted Group First win under Terrier Breeder Judge and Professional Handler Richard Paquette and Group 2nd under Wife Wendy Paquette..
See full updates,stud service info,and more pictures on Tidus' web site Von Roth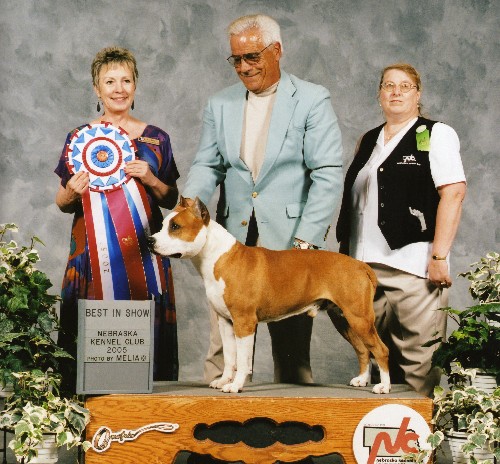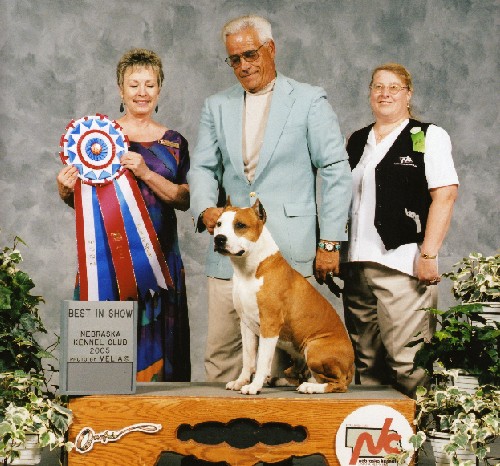 1/06 CH Barbarian's Chrimson Cage takes the breed at the '06 Eukanuba Cup!!

---
'05 Starts Off With A BANG!

12/29/05 Odyssey's Midnight Saranade(our granddog)and owner Brandon did a free style(doggy dance)demonstration at a special needs camp for mentally challenged and handicaped children.Sara and Brandon(age 9) were the hit of the demonstratin and sara happily greeted kids with isses afterward climbing into bleachers for the kids to say Hi who couldn't reach her and putting her front feet up on to wheel chairs!We are so proud of the exceptional temperaments the dogs from our lines ave shown over so any years!
Barbarian's Karma,CD gets her first leg toward her Canadian CD after only having 2 months of training at her new owners!FLASH!!!12/05 Karma finshes her Canadian CD in just 3 trials!Karma's owners site.


---


9/2/05 New Champion Barbarian's Allot of Gumption finishes with his 4th major win!Thank you my good friend Cyndi Ward for showing my boy!


7/05 CH Barbarian's Chrimson Cage takes an All Breed BIS!Cage now has multible group placements and wins!


CH Barbarian's Chrimson Cage gets an AOM at the '05 Eukanuba cup!

Barbarian's Ria double qualifies 2 trials in a row in jumpers excellent!

CH Mookyblu Majr Leage A Jones(CH Barbarian Gun slinger's son) wins the breed at the '05 Wesminster Kennel Club!
and the directly related grandkids/greatgrandkids


A total of 5 Barbarian related kids were qualified and shown at the '05 Eukanuba Cup!


2 Barbarian great grandkids and their junior handler in 4H did the following wins:
County fair 1st showmanship 3rd agility and obedience
State Fair 4th out of 15 showmanship 3rd in agility!



CH Barbarian's Crimson Cage wins BOB at the Chicago Terrier Specialty!


Beating 40+ dogs and numerous top 10 ranked specials!Cage is currently ranked #9 in breed points with very limited showing!!!WOW!!!Cage makes the final cut out of 90 specials at the '04 STCA National!!!