Our dogs live in our house as family pets first and foremost.
They live together with 6 to 8 loose in our house at all times. They eat and sleep
together as well. This to us is a proper temperament after all what fun is owning a dog
who can't be around other animals or having dogs which are in the same house but
can't be together? Many people seem to forget the origin of this breed and how intelligent
a properly bred one is knowing the difference between it's own pack members and
an animal which is coming at them as a threat and not part of the pack.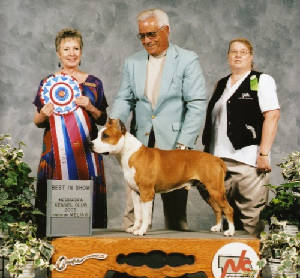 BIS CH Barbarian's Crimson Cage, OFA
Cage has one the most sweet loving temperaments you will ever see in any dog.

Unlike most dogs in the top 20 who are shown almost every weekend and most large

circuits, Cage was shown only a few weekends each year for last couple years and still

ended up as 2004 #17 breed 2005 #11 breed #5 all breed!His wonderful attitude put

together with his correct structure and clean movement won almost every judge he

showed to over. Cage has many group placements and a Best In Show as well as being

the 2006 Eukanuba Cup Breed winner! To meet Cage is to love Cage and we expect

these awsome line breedigs will produce as nice and consistant temperaments structure

and movement as well as awesome work ablity that Barbarian lines are known for.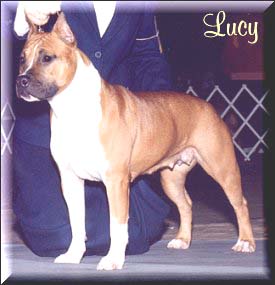 CH RCA's I Love Lucy

Lucy is being leased from Debbie meetze at RCA Am Staffs for this breeding.

Lucy is a full sister to our CH Barbarian's Wild Mountain Honey (Lizzy), CH Barbarian's

Charmed (Bear) national spec. best bred by, and CH Barbarian's The Hit Man (Spike)

gr 2 placer from clases over specials.Lucy and her siblings all finshed quckly with

breeds from the classes over toped ranked specials. The first litter which Lizzy, Bear

and Spike were from was so awsome that Debbie leased their mom CH Southern

Accents Sunspot baby (Rouge) to be able to repeat the breeding.